Tables of Content: Outsource Bookkeeping Services To India
Cost Savings
Quality, Qualified Professionals
Use Of The Latest Technology
The Lack Of A Language Barrier
Favourable Government Policies
The Favorable Work Culture
Multiple Related Services
Operational Efficiency and Productivity Increases
Enhanced Brand Image and Value
Conclusion
Businesses rise or fall depending on their flow of revenue. A smooth, error-free revenue stream provides the best foundation for a business owner to be confident in their decisions and take the calculated risks necessary for its growth. For this to occur, the money calculations in their account books should be robust in terms of accuracy. A proficient bookkeeper can ensure that accuracy by bringing their vast experience and expertise to every financial calculation. What's better is to hire a bookkeeper from India.
Outsourcing is a better option for getting bookkeeping professionals than hiring in-house for numerous reasons. Since the job is arduous, requiring constant upkeep of multiple revenue sources and exits, you'd need someone who can keep up with the demands without fail and deliver the expected results. In-house hiring in such circumstances can cost you a lot of investment with uncertain returns. Besides the hiring and maintenance costs of the individual, you have to pay for their equipment, software, and office space, among other conveniences.
You get multiple benefits if you outsource remote bookkeeping to a developing region like India. They can not only overcome the drawbacks of in-house hiring but also add to the advantages you'll experience. These benefits will skyrocket your profits, improve your brand image, and boost your company's operational efficiency.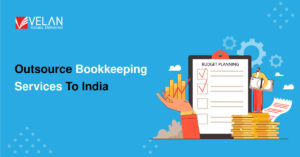 Cost Savings:
The most important reason for outsourcing is cost cutting, and in this regard, India has you covered. Two major factors will be working in your favour: the economy of scale and currency exchange value. Outsource Bookkeeping Services to India, the agency can provide the same quality of work at a fraction of the cost compared to hires in the home countries. The country produces a large number of talented professionals each year, so there is never a dearth of them to work on your accounting needs.
This abundance helps the outsourcing agencies hire professionals in large numbers and pass on the savings to you. And with the currency exchange value always favouring the high-valued currencies, it only adds to the cost-effectiveness. The average per-hour rate for Indian bookkeeping is around $8-$12 compared to $20-$30 in the US.
Quality, Qualified Professionals:
Being the hub of outsourcing for every industry, India has a large pool of qualified talent available who can deliver excellence on every type and scale of workload. India Bookkeeping Services are no different, employing large numbers of capable professionals who can handle the accounting needs of any type of firm from any part of the world.
The country's demographic dividend and several good educational institutions are behind this situation. The Institute For Chartered Accountants Of India and other such organizations set tough standards for graduates to pass, resulting in good-quality professionals. Every half year, the country gains around 6000-7000 more such graduates, so you don't have to worry about a lack of required expertise.
Use Of The Latest Technology:
An important factor you should not overlook when outsourcing bookkeeping is the technological tools used by the outsourcing agency. Bookkeeping is laborious, requiring the right tools to keep it error-free and completed on time. India has you covered in this regard because it is renowned for having top-notch IT companies.
The software tools that are necessary for bookkeeping can be sourced by outsourcing agencies right there, saving both costs and time while getting the latest technology. So, you not only get the advantage of quality talent by outsourcing to them but also the latest software helping them achieve your goals. This advantage also extends to security software, as it is vital to keep your financial records safe from attacks and leaks.
On the infrastructure side, the country has reliable, high-speed internet connectivity with low content moderation by the State. This setup makes it easy for any company to outsource their work to India since they can have real-time data exchange between themselves and the outsourcing agency.
The Lack Of A Language Barrier:
India has a large English-knowing populace who can read, write, and speak it at a professional level. This is in stark contrast to other outsourcing destinations like South America, where there is a deficiency in proficiency and the number of English speakers.
This skill enables companies from major outsourcing countries like the US, UK, Europe, etc.
To communicate with India's bookkeeping agencies effortlessly and get the intended results.
The customer care executives of these companies can also get trained to speak in an accent different from theirs to facilitate better understanding between both parties.
Favourable Government Policies:
The Government of India recognized the need to make it easy for foreign companies to outsource services that can help grow the local economy.
Hence, it has continuously introduced policies that benefit such outsourcing. For instance, there is the option for foreign companies to directly invest in the country via wholly-owned subsidiaries
which gives tax breaks and easy access to bookkeeping talent.
It funds educational institutions to ensure that they always produce quality professionals in the sector. Some educational institutions also have tie-ups with their international counterparts to help students learn about the rules and methods of bookkeeping in other countries. This facility makes it easy for graduates fresh out of education to adapt to a foreign client's accounting demands easily.
The Favorable Work Culture:
Indian professionals have a reputation for delivering quality work on time and according to specifications. The advent of various outsourcing opportunities in the country has primed the populace to respond positively to its demands. You can hire a bookkeeper in India and expect to get the job done in time and at a low cost.
The general communication tone is friendly, facilitating easy information sharing and establishing good working relationships. Much of the population is young and ambitious, so you can rest assured that attention will always get paid to your work.
Multiple Related Services:
Outsourcing bookkeeping to India can be accompanied by other accounting-related services that you may need, all under the same roof. These include payroll processing, tax management, liaising with concerned banks and vendors, etc.
You get these services as bundled packages, with separate professionals for each in many cases. You can pick the ones you want and discard the rest, customizing the packages to suit your particular needs. And all of these ancillary services also carry the same assurance of quality that bookkeeping does.
Operational Efficiency and Productivity Increases:
Hiring bookkeepers in India doesn't just give the straightforward benefits mentioned above; it also nets you indirect ones, especially about how your company runs. For instance, you can get an expert from an outsourcing agency to guide your bookkeeping team on improving your internal operations or your raw material sourcing practice to save input costs.
Such optimization measures lead to efficiency gains that stretch beyond related departments into every other aspect of the organization. Your employees will be less stressed and more focused on the work without worrying about budgetary issues. They will know exactly how much they have to spare for the tasks and devise creative ways to utilize the funds.
This stress-free environment leads to lower attrition rates, saving costs and allowing you to focus on the core business aspects and not worry about associated things like turnovers and budget overruns. This overall improvement in internal operations helps improve your efforts outside the market, leading to better customer outreach and increased.
Enhanced Brand Image and Value:
Businesses and individual customers alike don't just value brands based on the quality of products/ services offered anymore. They also judge a business on the positive impact it is having on society. Younger customers are very particular about the ethical practices of brands they use, especially concerning environmental and diversity/inclusivity factors.
Your brand can gain the appreciation and loyalty of such customers by outsourcing bookkeeping and accounting services in India as it signals to them that you're eager to help develop a population that's part of the global south economically. It can aid your diversity and inclusivity figures, making your brand liked and valued in your native market.
As a bonus, you get to enter the Indian market conveniently since you'll have the advantage of having your brand already present in the country in some format. All you need is the right marketing strategy, and you'll gain a foothold there in no time.
Conclusion of Outsource Bookkeeping Services To India
Running any kind of business is hard, so you need to do your best to minimize your workload without compromising the output quality. Bookkeeping, in particular, can be a drain on the resources while being conducted, and more so if done wrong. Going with an in-house team for bookkeeping brings a flurry of issues.
All of this can be solved if you hire bookkeepers in India. The multiple advantages you get by that move will keep your costs low while giving you the timely, accurate bookkeeping you need to maintain high operational efficiency. The cumulative effect of all the benefits is that your brand value shoots up along with your return on investment while keeping your account books tidy constantly.